Wahiba Sands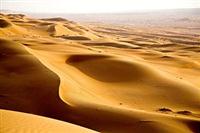 Wahiba Sands © Andries Oudshoorn
All travellers to Oman, whether young or old, are strongly encouraged to make an excursion to the desert region known as the Wahiba (or Sharqiya) Sands, a surprisingly biodiverse area of 4,800 square miles (12,500 sq km) near the country's northeastern coastline.
In addition to the area's abundant nature life, which includes thousands of invertebrate species, birds, and 150 species of native flora, the Wahiba Sands is also home to a Bedouin population that is becoming increasingly marginalised as the modern world exerts its influence over Oman.
Visitors are able to explore the Wahiba Sands by themselves. However, a 4X4 vehicle is required to navigate the dunes and summer's heat makes the months between April and October a dangerous time to get lost. Since it's no fun getting stuck in the sand, a far more popular option is to book a tour with one of the ubiquitous tour organisations based in Muscat. Typical tour packages include 4X4 transportation through the desert (although camel rides are possible) and an overnight stay in a desert camp.
Travellers who aren't looking to go off-road can also experience the Wahiba Sands on the sealed road from Al-Ashkara to Shana'a, which is still a unique and memorable desert experience.