Salalah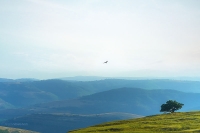 Salalah © A Vahanvaty
The capital of the southern-most Omani province of Dhofar, Salalah makes for a wonderful contrast to the hot, dry desert conditions that predominate throughout the country's interior. Salalah experiences a monsoon season, known as the Khareef Season, between June and September. This sees the surrounding countryside become lush and green, surprising visitors with the sight of herds of cattle calmly grazing in verdant fields.
Its relatively cool climate makes Salalah a great family holiday destination in Oman and it is a great place to buy Omani souvenirs for friends and family back home. Known as the 'perfume capital of Arabia', frankincense trees line the roads in Salalah and it is unsurprising that most visitors to the region leave with an assortment of perfumes safely packed away in their luggage.
Notable sights in Salalah include the al-Hisn Souq, a traditional market-place brimming with great things to buy, and the Sultan Qaboos' Palace, a graceful building that commemorates the birthplace of the current Omani leader. Salalah is also home to a gorgeous coastline, offering wonderful bird watching opportunities. Swimming and diving are also possible, but only in limited areas due to dangerously strong ocean currents.