Beaches in Oman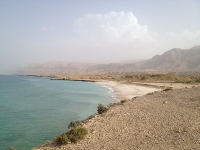 White sandy Beaches of Oman © Martyna Zambrzycka Millspaugh
With a coastline stretching 1,060 miles (1,700km) along the Arabian Sea, it is unsurprising that Oman boasts a stunning array of sunny, swimmer-friendly beaches. As the Omani government seeks to promote tourism throughout the country, its beaches have become focal-points for this exercise, with more and more fun beach activities such as diving, kite-surfing, and jet-skiing being offered on its shores.
There has also been a huge spike in the development of luxury beach resorts up and down the Omani coastline, offering visitors an air-conditioned retreat from the blazing sun and sand. Some of Oman's best beaches include Qurum Beach, which is located in Muscat below the Crowne Plaza Hotel. It's a beach which is perfectly set up for family vacationers, featuring picnic areas and shady palm trees.
Qantab Beach, located a short drive from central Muscat, has an established local fishing trade, and tourists are strongly encouraged to take a trip out with one of the local fishermen to explore some of the area's sheltered coves and sea-caves. Finally, Marjan Beach features small coral reefs ideally suited to novice divers and snorkelers. It also boasts a lively nightlife, with several restaurants and hotels often frequented by expatriate workers in Oman.
Tourists don't need to worry unduly about the dress-code for Omani beaches: western swimwear is perfectly acceptable while you're on the beach. Just make sure to cover up appropriately when you're on your way to and from your hotel or beach resort.