Evora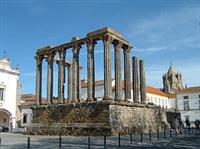 Evora © ho visto nina volare
For many years, Evora was one of Portugal's best-kept secrets: a gorgeous medieval town, full of fascinating historical sights, Evora miraculously managed to stay off the mainstream tourism circuit. For better or worse, this has begun to change, as more and more eager visitors are making Evora an essential part of their Portuguese holiday itineraries, as the entire city of Evora has been designated a UNESCO World Heritage Site.
Boasting a remarkably well-preserved Old Town centre, partially bordered by medieval walls, as well as the outstanding Roman Temple (built in the 1st century AD), the site is really something special to behold. For visitors, the town is small, compact and easy-to-navigate, and therefore, Evora is best explored on foot. Visitors will feel immersed in history as they pass by Evora's wealth of sights, which include the Aqueduct of Silver Water, the Cathedral of Evora, the Palace of Vasco da Gama and the Renaissance Fountain at Largo das Portas de Moura (built in 1556).
A short distance from the perennially-popular beach resort area of the Algarve, tourists to Portugal are strongly advised to make a stop in Evora to sample some of the unassuming city's rich cultural attractions.