Jerónimos Monastery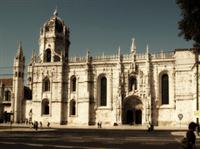 Hieronymites Monastery © Kevin Poh
One of Portugal's most iconic tourist sights, the Jerónimos Monastery is an absolute must-see attraction for visitors to Lisbon. A stellar example of Manueline, also known as Portuguese late-Gothic architecture, the Jerónimos Monastery is a UNESCO World Heritage Site, earning its place in the registry on the basis of its architectural splendour that 'exemplifies Portuguese art at its very best'.
The construction of the Monastery begun in 1501, at the behest of King Manuel I. To this day, it remains a potent symbol of the historical might of Portugal, having been built during the height of Portugal's exploits of discoverey. It stands as a testament to Portugal's important role in the development of modern history.
The Jerónimos Monastery is a beautiful building, resplendent in a gleaming ivory hue with sharp spires, intricate sculptural details and maritime motifs. The cloisters are particularly magnificent, with each column individually carved with coiled rope, sea monsters, coral and other designs that bespeak an era of nautical adventure.
Inside the Monastery, visitors can view the stone tomb of Vasco da Gama (which actually does hold his mortal remains), as well as the tombs of other notable figures from Portugal's history. An overwhelmingly beautiful sight, budget at least three hours to take it all in. Whatever you do, don't forget your camera.
Website: www.mosteirojeronimos.pt/en