Isla Verde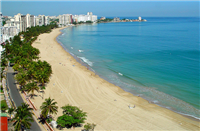 Coral Beach, Isla Verde © cogito ergo imago
Isla Verde ('Green Island') is San Juan's hippest area and home to many of its best beach resorts and upmarket hotels. The area's name is inspired by the colour of the water in its bay: a rich, green-turquoise shade that will prove irresistible to swimmers and divers.
While the beautiful crescent-shaped beach, with its soft sand and tall palm trees, is a tourist attraction in its own right, most visitors to Puerto Rico will seek out Isla Verde for its excellent beach resorts, plush hotels, international dining options, world-class spa treatment facilities, and vibrant nightlife. Isla Verde is home to two of the island's best casino hotels and a wide range of raucous night clubs and bars, where live local music is often staged.
A natural base for well-heeled travellers to San Juan, Isla Verde makes for a luxurious home away from home during your holiday in Puerto Rico. A fantastic winter sun vacation destination, Isla Verde sees most of its tourist activity between December and January, when days are warm and sunny and there is no threat of hurricanes or storms.