Mayaguez Zoo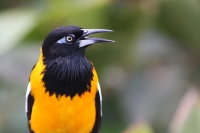 Puerto Rican Troupial at the Mayaguez Zoo © Kati Fleming
Although found rather off the beaten tourist track in Mayaguez on the east coast of Puerto Rico, the Mayaguez Zoo (also called the Dr Juan A. Rivero Zoo) is a world-class establishment and well worth a visit for animal lovers and those passionate about wildlife conservation.
The island's only large-scale zoo, the Dr Juan A. Rivero Zoo has been growing a collection of rare and exotic animals since its establishment in 1954, including lions, tigers, jaguars, hippos, giraffes and rhinos, as well as many species of tropical birds and large and varied collections of butterflies, amphibians, and snakes.
Central to the Zoo's growth has been a focus on conservation and several native species - including the Andean condor and the Puerto Rican crested toad - have benefited greatly from this approach.
Featuring several recreated habitat systems (including the tropical Spider Monkey Island), as well as numerous recreation areas, the Mayaguez Zoo is a wonderful place to take the kids for the day. Budget at least two or three hours to take it all in.
Address: Mayaguez