Doha Corniche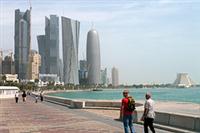 Corniche, Doha © ReflectedSerendipity
The Doha Corniche is a beautiful waterfront promenade and one of the most popular areas in Doha for tourists and locals alike. Now one of the most attractive areas of the city, the Corniche was formed after nearly 15 years of dredging and construction work during the 1970s and 80s. It now extends for several kilometres and connects the West Bay Business District to the south of the city.
The two ends of the Corniche are marked by two of Doha's best tourist attractions for foreign visitors, the Museum of Islamic Art, and the Sheraton Hotel, where you can buy alcohol and where parties and live music are often staged.
Although the Doha Corniche used to be a largely empty expanse, the beauty of its seaside location and the groundswell of international commercial activity in Doha has seen extensive development take place. These days, the Corniche sports a glass-and-steel skyline to rival the likes of New York City.
A popular area for joggers, walkers, and bikers, the Corniche is also a wonderful place to gather in the coolness of the evening, to sip some coffee, or to have a meal and socialise with other tourists and Qatari locals while the sun sinks behind the gleaming buildings in the west.