Goethe-Haus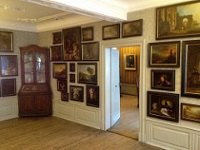 Goethe-Haus © ptwo
The house where Johan Wolfgang von Goethe, Germany's world-famous poet and writer, was born in 1749 is now a shrine to his memory, preserved as an example of how the well-to-do lived in Frankfurt in the late Baroque era. The house, which is a reconstruction because the original was destroyed during the Second World War, consists of two neighbouring half-timbered houses in Grosser Hirschgraben, and is situated next to the Goethe Museum, which contains a huge library of books, documents and graphics relating to the poet. Although the appeal of Goethe-Haus is self-evident for those that love his work, even if you are not particularly interested in Goethe this attraction provides welcome insight into 18th-century Frankfurt. All the rooms are beautifully decorated and furnished and many of the objects have recorded stories and associations from the Goethe family. Unfortunately, there is no wheelchair or baby carriage access to the house.
Address: Großer Hirschgraben 23-25
Website: www.goethehaus-frankfurt.de
Telephone: (0)69 138 80-0
Transport: U- and S-Bahn to Hauptwache and Willy-Brandt-Platz
Opening times: House and Museum open daily, Monday to Saturday 10am to 6pm, Sunday and public holidays 10am to 5.30pm. Library open Monday to Friday 10am to 12pm and 1pm to 4pm.
Admission: €7 (regular); €3 (reduced); free for children under 6.