Shisha Bars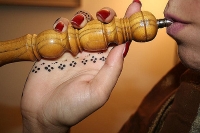 Shisha © hydro-xy
A quintessential Arabian pastime and a fun alternative for western visitors to Qatar who are missing their regular nightlife options, shisha bars are where friends gather to sit, chat, and share a smoke of a water-pipe together.
The design of the shisha pipe ensures that even non-smokers should find the experience smooth and comparatively gentle on their lungs, and the tobacco used comes in a variety of delicious flavours such as grape, pineapple, and vanilla.
Visitors should keep in mind that since this is a very traditional recreational activity, women are not allowed into many of the shisha bars in Doha. However, there are some more foreigner-friendly venues which happily allow women in. It's best not to assume women will be welcome and to ask before entering.
A highly recommended tourist activity in Doha, a visit to a traditional shisha bar for some tea and a smoke makes for a great cultural experience, and presents a fantastic opportunity to engage with locals in a relaxed setting.