The Pearl–Qatar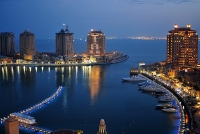 Dusk at the Pearl Qatar © Steven Byles
The Pearl is a staggering feat of human engineering and one of Doha's hottest new tourist areas. An artificial island located in the West Bay and spanning more than 985 acres (400 hectares), The Pearl is a world-class luxury accommodation and beach resort destination in Qatar. Building the development necessitated the creation of over 20 miles (32km) of new coastline. Of this, 12 miles (19km) consists of pristine sandy beaches.
Expatriate businesspeople in Doha will be interested to know that The Pearl is the first land available for freehold ownership by foreign nationals, as its developers look to foster a lavish, secure Riviera-style community on the man-made island.
The Pearl boasts thousands of permanent residents and has become a massively popular shopping and dining area for well-heeled travellers and Qatari locals alike. Internationally-renowned restaurants are the order of the day at the pearl, while its enormous malls are home to cinemas, theatres and boutique stores stocking every big name brand under the sun.