Ta'if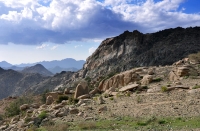 Taif © Ziyad Khader
Located in the mountains near Mecca, Ta'if is a popular summer holiday resort in Saudi Arabia. One of the few places in the region that is open to non-Muslims, Ta'if is a fertile region known for its rose farms, as well as grapes, pomegranates and honey production; there are said to be more than 3,000 gardens in the area. The fragrant valleys are good for hiking, and there are cable cars to the top of the mountain in Al Hada.
There are some good restaurants and shops in Ta'if, and a popular souvenir is the rose water and perfume made from the rose farms in the area.
There are plenty of things to see and do in Ta'if, including Al Rudaf Park, a large natural park with interesting rock formations and a small zoo, and the Rock Carving Site 40km to the north that was the site of a huge pre-Islamic souk. Another interesting place is Wadi Mitna, which was a sanctuary for the Prophet Mohammed in the year 662. Visitors to Ta'if should also be sure to visit Al Shafa, a small village high in the mountains with incredible views.
Non-Muslim visitors to Ta'if should be aware that they will need to take the non-Muslim Bypass when driving from Jeddah, which adds a few miles to the journey.