PiešÅ¥any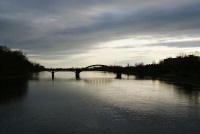 Piestany © Bjalek Michal
Located just an hour's drive north of Bratislava, Piestany is Slovakia's premier spa resort town and a great place to go for tourists looking to relax and rejuvenate in style. The range and quality of treatment available in Piestany is world class, though its relative obscurity means it's far more affordable and unfrequented than similar spa towns in more popular areas around the continent.
Piestany is situated in the beautiful, forested region of the Vah River Valley and is fringed by mountains to the north. The spas are the town's main attractions, catering to mostly foreign patients with chronic rheumatic and arthritic diseases. In the summer, tourists arrive looking for mud therapy, massages and even dietary advice.
The town offers a range of accommodation and resort amenities, such as a nine-hole golf course, Jacuzzis and steam baths. Other sights and attractions include a 13th-century monastery and a number of great walking and hiking trails.
During summer, Piestany hosts a popular arts festival as well as celebrations of country- and folk music. Budget-conscious travellers looking to spend some time in a top-class European spa resort should seriously consider Piestany, which, like the rest of Slovakia, is an unassuming gem of a European holiday destination.
Website: slovakia.travel/en/spa-piestany