Old Town Hall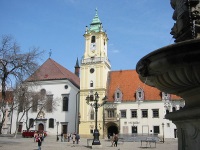 Old Town Hall © Thaler Tamas
Set in the heart of Bratislava's historic city centre, the Old Town Hall is the perfect jumping-off point for sightseeing in Slovakia's capital city. Its Gothic tower is the oldest stone building in the downtown area, and was erected in 1370, before the rest of the building was completed in the 15th century by joining three adjacent townhouses together.
A distinctive building with its colourful roof, it now principally functions as the home of the Bratislava City Museum. The museum is small but certainly worth a look, housing a collection of strange and unsettling artefacts: torture instruments, the old town dungeons, antique weapons and armour, and even a cannon ball that was shot into the wall by Napoleon's forces in 1809.
In the summer, the Old Town Hall hosts open-air music concerts in its courtyard. Many of Bratislava's other great tourist sights (such as the Main Square and Primate's Palace) are within easy walking distance of the Old Town Hall and there are numerous cafes and eateries serving excellent Slovakian cuisine.