Triglav National Park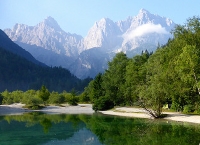 Triglav National Park © Michael R Perry
The only national park in Slovenia, Triglav National Park is named after the highest peak in the country and the Julian Alps: Mount Triglav. Appearing on the Slovenian flag, the mountain is a symbol of national identity.
Its craggy, snow-covered summit provides a wonderful backdrop to a holiday spent exploring quiet forests and hiking out to pristine waterfalls. The trail that leads out to the 240-foot (78m) Slap Savica Waterfall is particularly popular, attracting outdoor enthusiasts from all over the continent each year.
Triglav National Park is also perfectly set up for mountain bikers and keen mountaineers who wish to get to grips with the rocky slopes. The park offers affordable camping, and its close proximity to Italy and Austria, makes it an attractive option for budget-conscious travellers wishing to experience the Alps without having to shell out more than they can afford.
Website: www.tnp.si/national_park/