Beaches in Busan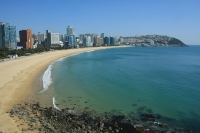 Haeundae Beach © TravelingOtter
Busan is home to a number of excellent tourist sites. Yet its standout attractions must be its beaches, which are famous throughout Korea and draw tens of thousands of vacationers annually to the busy port city.
Busan's beaches are best experienced in spring, autumn, and winter, as between mid-June and the end of August (Korea's official beach season) they can become unpleasantly overcrowded. Busan's main beach is Haeundae, which sports a good amount of fine golden sand and good swimming conditions.
The area surrounding Haeundae Beach is also full of trendy bars and restaurants, a wealth of shopping opportunities, and lots of accommodation options, making it the perfect base for a weekend getaway in Busan. The next beach down the pecking order is Gwangalli, which has a great view of the Gwangan Grand Bridge, and on any given day will play host to a number of informal volleyball games.
Slightly more remote beaches, which might not suffer too much from overcrowding, include Songjeong with its cleaner waters and bigger waves (ideal for surfing) and Dadaepo, located in a river estuary about five miles (8km) from downtown Busan which features shallow waters and outstanding natural scenery.
Website: english.visitkorea.or.kr/enu/ATR/SI_EN_3_1_1_1.jsp?cid=264155