Frankfurt Botanical Gardens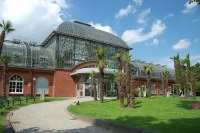 Frankfurt Botanical Gardens © Anna16
The well-ordered and interesting Botanical Garden in Frankfurt is administered by the university and is really a beautiful place to spend a few hours. The gardens are designed to take visitors on a journey through different areas of the plant kingdom, from the hardwood forests of North America to the barren savannah of Africa. The gardens cover more than eight hectares (20 acres) and contain more than 6,000 different botanical species, from exotic rainforest flowers to European weeds. There are many enclosed greenhouses so there is still lots to see in winter. Aside from admiring the flora, there are fun family activities like miniature golf and boat hire to enjoy, as well as a gift shop and cafe. The botanical garden is a great attraction for the whole family and if you're travelling with kids in Frankfurt its a nice break from more traditional sightseeing. There is a playground in the gardens to amuse little ones.
Address: Siesmayerstrasse 61
Website: www.botanischergarten-frankfurt.de
Telephone: (0)69 2123 3939
Transport: Entrance Palmengartenstraße: trains U6, U7 or buses 32, 33, 50 to Station Bockenheimer Warte
Opening times: 9am to 6pm Monday to Saturday, 9am to 1pm Sundays and holidays, between February and October. Hours are reduced in winter.
Admission: Admission is free.