Busan Aquarium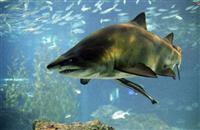 Busan Aquarium © Kaede
Korea's largest aquarium and one of its most talked about tourist attractions, the Busan Aquarium is a sure-fire winner guaranteed to delight visitors of all ages. The aquarium is a major operation and spread over three levels, with its main tank containing an astounding three million litres of water.
The Busan Aquarium is home to roughly 35,000 marine animals from more than 250 species, and features special exhibitions to showcase rare and exotic creatures such as jackass penguins, clawed otters, electric eels, sharks, piranhas, giant turtles, and an assortment of colourful sea jellies.
Visitors largely view the sea life from the confines of an impressive 260-foot (80m) underground tunnel, through enormous acrylic windows that allow for photography. Of particular interest to younger visitors is the aquarium's 3D simulator located on the first floor, a cutting-edge piece of technology that gives you a taste of what it must be like to explore the ocean floor on foot.
One of the best things to see in Busan and a must for family vacationers, the Busan Aquarium is a delightful way to spend a few hours marvelling at the ocean's riches before heading upstairs and out onto Haeundae Beach to catch some sun.
Address: Haeundae Station, Busan
Website: www.busanaquarium.com