Galbi Restaurants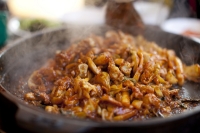 Dak Galbi © tomcensani
A quintessential Korean pastime and a good everyday option for budget-conscious travellers, galbi restaurants are immensely popular places which are full every night of the week with locals, expatriate workers in Korea, and tourists.
The basic concept of galbi is simple: patrons sit around a private barbecue grill and order portions of raw, succulent pork, which they then cook themselves at their own leisure. Of course, over the course of the evening, the waiter will bring a seemingly unending selection of complimentary side dishes (banchan) to the table, including the ubiquitous national dish kimchi (spicy fermented cabbage), a variety of jjigaes (soups), pajeon (pancakes), bean sprout salad (kongnamul), spicy soy bean paste (doenjang) and more.
Over and above the culinary experience of eating in a galbi restaurant, tourists will love the laidback atmosphere and unique social dynamic of cooking food with friends in a restaurant setting. Alternatively, solo travellers or newly-arrived expats will find that galbi restaurants are the perfect places to meet people and establish new friendships. Alcohol (usually consisting of soju or maekju, a type of beer) is always served at these establishments and is generally quite cheap.