Saldanha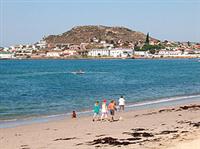 Saldanha, South Africa © Morne
Saldanha is a small, attractive town situated on the northern shore of Saldanha Bay, a deep natural harbour that sustains the area's economy and which provides countless water sport and fishing opportunities to visitors.
Saldanha Bay's fishing industry is underpinned by the export of delicacies such as crayfish, mussels, and oysters. This fine selection of seafood naturally characterises the town's gastronomy. Visitors to Saldanha can look forward to a range of fun activities, including kite-surfing, waterskiing and deep-sea diving.
The area is also immensely popular with game fishing devotees, who man their rods and try to entice yellowtail, tuna, and snoek from the ocean depths. Accommodation in Saldanha is plentiful, catering to luxury resort clientele as well as backpackers.
In season (June to November), Saldanha is one of South Africa's better whale watching destinations, as schools of humpback and southern right whales gather off the Atlantic coast to calve. Like most of the West Coast, Saldanha is not a glitzy travel destination but is charming in its own right.