West Coast National Park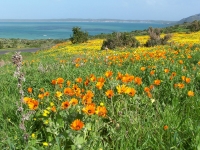 West Coast National Park, South Africa © Morne
A natural wonderland located just 70 miles (110km) north of Cape Town, the West Coast National Park showcases the very best of the region's natural bounty. Stretching from the quaint seaside town of Yzerfontein to the turquoise-blue Langebaan Lagoon, the West Coast National Park is one of the most popular of South Africa's celebrated national parks.
It marries appreciable natural attractions with outstanding visitor-friendliness. The park is most famous for its bird life, with thousands of seabirds gracing the rocks on its golden beaches, and thousands more filling the park's salt marshes with their varied songs and warbles.
However, the West Coast National Park is also home to some interesting wildlife, including eland, red hartebeest, and caracal. The Postberg section of the park is one of the best places to view the Namaqualand Daisies, when for two months (August and September) the countryside becomes carpeted in bright wildflowers.
Whether gazing on in peaceful serenity at pretty flamingos, or being thrilled at the sight of a diving osprey, a visit to the West Coast National Park is a must for nature-lovers. It offers a convenient and thorough introduction to the West Coast's natural treasures, along with some stunningly beautiful and unspoilt beaches!
Website: www.sanparks.co.za/parks/west_coast/