Yzerfontein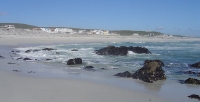 Yzerfontein, West Coast © Zaian
Yzerfontein is just over an hour outside of Cape Town. A tranquil seaside village, it is the ideal getaway for those seeking a serene and relaxing beach holiday. With a population of around 1,200 permanent residents, it is fair to say that Yzerfontein probably won't appeal to travellers who enjoy the bright lights and non-stop atmosphere of bars and nightclubs.
However, visitors looking to spend enjoy long walks along the coast and short excursions into neighbouring parks, Yzerfontein will hit the spot nicely. Famed for its sunshine and mild winters, the small village's greatest natural feature is the Sixteen Mile Beach.
The longest uninterrupted stretch of sand in South Africa, it connects Yzerfontein to the Postberg conservancy area in the West Coast National Park. Here, in August and September, the world-famous wildflowers of Namaqualand begin to bloom in fabulous explosions of colour.
Other activities include mountain biking, line fishing, crayfishing, skiing, hiking and whale watching. It's a perfect mix for tourists looking to take it easy on one of the most scenic coastlines in the world. Visitors should note that the sea is very cold so only the brave enjoy swimming.