The Cederberg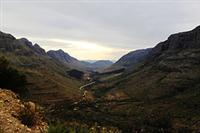 Uitkykpas, Cederberg, South Africa © Jim Sher
When the film version of JM Coetzee's celebrated novel Disgrace was made, the film-makers controversially opted to ditch the book's original Eastern Cape setting in favour of various locations in and around the Cederberg, a mountainous conservancy area about 190 miles (300km) north of Cape Town.
Their reasoning for this? Simply that the Cederberg is one of the most beautiful, unspoiled areas of South Africa and that foreign audiences deserved to see this often-overlooked natural wonderland in all its glory.
No doubt aided by this exposure, the Cederberg has quickly grown into one of the leading ecotourism destinations in Southern Africa. It is the premium destination for those outdoor adventurers looking to get to grips with South Africa's unique and varied landscape.
Although there are plenty of lovely towns in the greater region, including Ceres and Clanwilliam, the real draw card is staying within the Cederberg Wilderness Area, a massive conservancy administered by Cape Nature.
Their main campsite, Algeria, is a great place to stay, although there are plenty of privately-owned alternatives, such as Sanddrif, Driehoek, and Krom River, to choose from as well. Great activities in the Cederberg include hiking and rock climbing, and walking tours of caves where San rock art can be seen.
The best time to visit the Cederberg is between November and April, when days are warm and there is not much rain around.