Nieu-Bethesda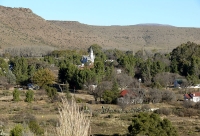 Nieu-Bethesda, South Africa © Morné van Rooyen
Tourists looking to take an adventure to a legitimately weird and wonderful South African town, should head to the interior of the Eastern Cape and check out Nieu-Bethesda. Located about 32 miles (50km) from Graaff Reinet, in the Karoo Heartland, Nieu-Bethesda is a tiny, sleepy place that seems to exist in blissful ignorance of modern life.
Devoid of banks, paved roads, and even streetlights, Nieu-Bethesda nonetheless still boasts several excellent and one-of-a-kind tourist attractions. The pick of these is the Owl House: a bizarre and unsettling sculpture garden created by reclusive artist Helen Martins.
Helen Martins was a frustrated visionary who suffered under the apartheid system and who took her own life in 1976. The Owl House is cluttered with cement and wire sculptures of a religious nature, painstakingly decorated with crushed glass, and gives a fascinating insight into a tortured and singular artistic personality.
Other sights in Nieu-Bethesda include a great archaeological museum and tour, where visitors are shown fossils that date back 160 million years. Present too is the Kompasberg, the Eastern Cape's highest peak, and a wonderful place to hike on agathosma-scented slopes.
Finally, all visitors to Nieu-Bethesda are strongly encouraged to have lunch at the Two Goats Deli, a family-run establishment that specialises in home-made goat's cheese and home-brewed beer.