Gotland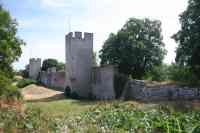 Visby, Sweden © Benranton
Sweden's largest island, Gotland was once an independent kingdom taken over by Denmark in the 14th century and ceded to Sweden in the 17th century. Located in the middle of the Baltic Sea, Gotland is a popular holiday destination for Swedish tourists. The medieval atmosphere of farmlands and churches and the old walled city of Visby (a UNESCO World Heritage Site) draw foreign tourists, while locals holiday at the beaches along the coast.
Boat tours around the island are available to interesting locations like the karst limestone formations of Lummelunda Grottan and the dwarf forests and moors of northern Gotland and Fårö. For visitors to Visby interested in the ancient history of the island the Gotlands Museum is a must; it is a fairly small museum but boasts some fascinating picture stones and Viking relics as well as some interactive sections geared towards children. The beautiful national park island of Stora Karlsö, a 30-minute ferry ride from Klintehamn, just south of Visby, is definitely worth a visit for nature lovers; a night or two can even be spent in the lighthouse on this unspoilt gem of an island.
Daytrips are easy to arrange between early May and the end of August.