Sala Silver Mine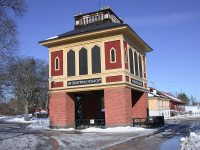 Sala Silver Mine, Sweden © Riggwelter
Formerly a working silver mine in Västmanland County, Sala stopped major production in 1908, and has since been transformed into something of a tourist attraction. Guided tours are conducted down the mine, which also hosts concerts and other events. There is even an unusual hotel room located several hundred metres below ground, said to be the world's deepest hotel room! There are a number of different mine tours to choose from, descending to different depths and ranging between one and three hours. Tours should be booked in advance via phone or email. It gets very cold down in the mine, with ice formations in some areas, so visitors should come prepared with warm clothes and good shoes. Some of the tours are suitable for people with limited mobility and are accessible to wheelchairs.
Above ground, many buildings in Sala have been converted into shops, art galleries, and museums. The town hosts Christmas markets on weekends in December, while in July the Mine's Days are celebrated. As if mine tours weren't exciting enough, there are sometimes high wires, ropeways, hanging bridges and other adventure activities set up at the mine, allowing visitors to play high in the air, as well as explore deep underground.
Address: Drottning Christinas väg, Sala, Sweden.
E-mail: bokning@salasilvergruva.se
Website: www.salasilvergruva.se/en/
Telephone: +46 224 677 260