Central Suriname Nature Reserve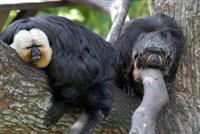 With over a third of the country being declared a national reserve area, Suriname is a nature-lovers' delight: a country full of pristine tropical rainforest and significant biodiversity. The most popular of Suriname's famed national parks is the Central Suriname Nature Reserve: an enormous area (four million acres) of both montane and primary tropical rainforest, that has been pronounced a UNESCO World Heritage Site because of the range and importance of the ecosystems that it supports.
Central Suriname Nature Reserve abounds with great sights and activities for visitors, from jungle walks to hiking up the peak of Mount Voltzberg, to exploring the gorgeous Raleigh waterfalls. If 100-foot (30m) trees and over 5,000 species of plants and flowers doesn't sound 'exotic' enough for you, the Reserve is also home to 400 bird species and more than 160 mammals, including monkeys, jaguars, sloths, tapirs and giant armadillos.
A wonderful ecotourism destination, those who wish to see the Amazon in all its unspoilt glory should head to the Central Suriname Nature Reserve and begin the tropical adventure of a lifetime. Remember to pack lightweight though long-sleeved clothing, and plenty of insect repellent.