Paloemeu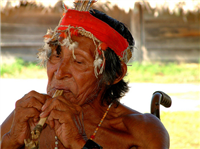 Visitors to Suriname with a high sense of adventure will want to check out Paloemeu, a small Amerindian village sited at the confluence of the Paloemeu and Tapanahoni Rivers.
Members of the Tiriyo cultural group have begun to welcome foreign visitors to Paloemeu in the hope of creating a sustainable future for themselves that doesn't depend on the logging or hunting industries, and the response to this ecotourism initiative has been very positive. Tourists are invited to stay in a comfortable rainforest lodge, where they can spend their days exploring the jungle or getting around on the river in traditional canoes. A superb 'back to basics' adventure, visitors stay in a typical Amerindian-style hut, lit at night by a kerosene lamp; the experience of being woken up at dawn by the screams of howler monkeys and the songs of thousands of birds is truly unforgettable.
Visitors can get to Paloemeu via an eight-day river journey (recommended for adventurous types), or by flying to Vincent Fayks Airport in Paloemeu. You can book your accommodation in Paloemeu in Suriname's capital Paramaribo, through tour companies Stinasu or METS.