Malolotja Nature Reserve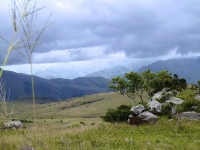 Malolotja Nature Reserve © Rene C. Nielsen
The Malolotja Nature Reserve is located near Swaziland's northwestern border with South Africa, and is a fantastic showcase of Swaziland's beautiful natural attractions.
A pristine mountain wilderness area, the Malolotja Nature Reserve includes Swaziland's second-highest peak (Mount Ngwenya) and its highest waterfall complex (the Malolotja Falls), not to mention vast tracts of unspoilt Afromontane forest and endless veld (grassland), which rolls away and out of sight to join Songimvelo Game Reserve on the other side of the border.
The park is home to many animals, including zebra, wildebeest, leopard, serval, and jackal; some amphibians that are endemic to the area, such as the Natal Ghost Frog; and a huge variety of birdlife, including the gorgeous Knysna Loerie.
There are very few roads in Malolotja Nature Reserve, but the area can easily be explored by foot, mountain bike or 4X4. Self-catering units and camping sites are available.