Swazi Candles Craft Centre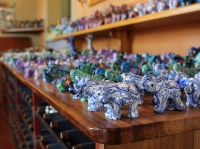 Swazi Candles © Jochem Koole
Located in the popular tourist area of the Malkerns Valley, the Swazi Candles Craft Centre is not only one of the best places to shop in Swaziland for quality gifts and souvenirs, but a very interesting place to visit and watch true craftsmen at work.
A fascinating history informs modern-day candle-making in Swaziland, which developed from the famous Millefiore technique used in glass-making in Murano, Italy. This painstaking 'bead' method of making the candles ensures that although designs might be similar, no two are ever exactly the same - and furthermore, to add to the 'art' of the process, the candles are hand-moulded and hand-finished by the candle-makers at the centre.
Available in a huge variety of colours, designs, textures and sizes, a trip to the Swazi Candles Craft Centre is sure to provide visitors with some memorable keepsakes from their African adventure.