Mantenga Cultural Village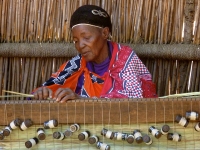 Mantenga Cultural Village © Rene C. Nielsen
The Mantenga Cultural Village, located near Mlilwane Wildlife Sanctuary in the northwestern corner of Swaziland, is a 'living history museum', designed to give visitors a taste of traditional Swazi life in the 1850s.
The Village consists of 16 huts, all of which were built using traditional materials and techniques only - poles, grass, reeds, leather strips, earth and dried cow-dung - as well as other 'period' structures such as kraals (for cattle), windbreaks and fire-pits. An added feature is that people live in this village permanently, and stage cultural performances ranging from traditional dances to consultations with the village's medicine-man every day.
There is also the opportunity to take a traditional meal at the village, and to spend the night in one of the huts. The king of Swaziland, Mswati III, is clearly a fan of the Mantenga Cultural Village, naming it Ligugu Lemaswati ('the pride of the Swazi people') - and for first-time visitors to Africa, especially, it is a very worthwhile excursion to make.