Altona Fish Market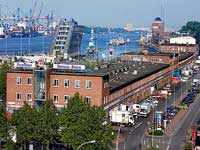 It may be billed as a fish market, but there is just about anything and everything on sale at this lively, colourful Hamburg market that takes place early on Sunday mornings, and has done continuously since 1703. The once industrial area of the fish market, which is right next to the harbour, has developed in recent years into one of the most vibrant and picturesque areas of the city, as well as one of the most fast-developing. The market is situated on the banks of the Elbe river with views of its ships, tugs, barges and container giants and although it is now big and popular it retains some of its old-world charm and still feels like an authentic local market as well as a trendy hub. There is a restaurant in the historic Fish Auction Hall, along with some live musical entertainment, to rejuvenate tired shoppers. If seafood is not your thing, there is plenty of other food on sale at the market, as well as an assortment of great crafts - this is a good place to buy presents and souvenirs for people back home. The best time to visit is for breakfast on Sunday morning.
Address: The market is between Hexenberg and Grosse Elbstrasse
E-mail: info@fischmarkt-hamburg.de
Website: www.fischmarkt-hamburg.de
Telephone: (0)40 38012-0
Opening times: Daily 5am to 12pm in summer; from 7am to 12pm in winter.