Djerba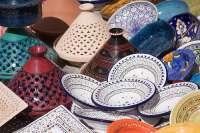 Some claim that the Greek adventurer Ulysses was the first tourist in Djerba, but many more have explored this lovely island just off the southern coast of Tunisia in the Gulf of Gabes. Known among travellers as the 'Isle of Forgetfulness', Djerba was the mythological home of the seductive lotus eaters that so intoxicated Ulysses' men that he found it nearly impossible to return them to the ship.
The island has a long history going back to the Roman and Phoenician periods, which is evident in the diverse architecture and traditional arts and crafts of the island; each village has its own unique character and culture, with large Berber, Jewish and Muslim populations.
The capital of Houmt-Souk is a bustling town of 45,000 people with colourful markets, interesting museums, and historic fortresses and landmarks; other interesting village attractions include the traditional ceramics and pottery of Guellala, the synagogues and monasteries in La Ghriba, the beautiful gardens of Mahboubine, the sponge-fishing town of Ajim, and the colourful markets of El May.
The most popular attraction in Djerba, however, is the 330 days of sunshine it experiences each year. The warm blue waters of the Mediterranean Sea are framed by sparkling sandy beaches and punctuated by dramatic sunsets. One of the most picturesque places to enjoy the sunset in Djerba is from the tiny port town of Borj Djillidj on the northwest side of the island.
Transport: There are flights to Djerba from a few European cities, and several airlines offer flights from Tunis to Djerba-Zarzis Airport. There are also buses from Tunis, which take about eight hours, and the fare includes the ferry to Djerba.