Kerkouane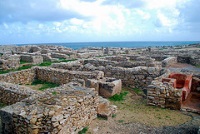 Kerouane © Sek Keung Lo
Approximately 50 miles (80km) east of Tunis lies Kerkouane, a former city of the Phoenician and Punic periods. The city was abandoned around the 3rd century BC, which meant it was largely ignored by the conquering Romans and is today the only remaining untouched Punic settlement. The city was declared a UNESCO World Heritage Site in the 1980s.
The remains of Kerkouane and its famous necropolis are not large, and can be explored in about an hour. Visitors can look for the distinctive minimalist mosaics of the Punic god Tanit , and learn about the city's surprisingly modern town-planning. A small museum housing interesting relics and artefacts gives further insight into the history of Kerkouane.
Set along an attractive bit of Tunisian coastline, visitors from Tunis will enjoy the peace of the site and lovely ocean views. The museum shop sells a few souvenirs and snacks, but a picnic lunch is the best complement to an excursion to Kerkouane.