Udzungwa Mountains National Park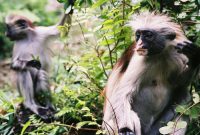 Udzungwa Mountains National Park, Tanzania © Rachel Zack
Said to be the most biodiverse national park in Tanzania, Udzungwa Mountains National Park is less a magnet for game viewing than for hiking. A network of forest trails criss-crosses the peaks and offers treks to hidden waterfalls and majestic vistas. A popular hike is the half-day trip to Sanje Waterfall, while the two-day hike along Mwanihana Trail provides panoramic views of the surrounding valleys. Other spots to hike to include cultural and historical sites like the Mwanaruvele and Magombereka Caves.
While Udzungwa Mountains National Park isn't known for its game, there are still plenty of exotic animals to spot, including birds, mammals, reptiles, amphibians, butterfly and other creatures. The Iringa Red Colobus Monkey, and the Sanje-Crested Mangebay, both found only in Tanzania, can be spotted in the park.
The best time to visit Udzungwa Mountains National Park is between June and October, which is the dry season (although rain is possible any time of year).