Ukrainian National Chernobyl Museum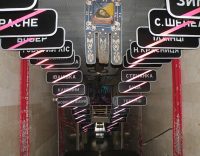 The 1986 Chernobyl disaster is one of the most grisly and infamous events in the Ukraine's history. While few tourists make the trek to see the actual site of the former nuclear plant, visitors in Kieve can tour the Ukrainian National Chernobyl Museum, which houses artefacts and memorabilia from the disaster, as well as scale models, visual media, and other educational exhibits. While all of the signs are in Ukrainian and Russian, English-language audio tours are available for a small fee.
Address: Khoryv Lane, 1
Website: www.chornobylmuseum.kiev.ua
Telephone: (044) 417 54 22
Opening times: Monday to Friday 10am-6pm, Saturday 10am-5pm. Closed Sundays.
Admission: UAN 10