Hamburger Kunsthalle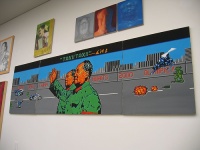 Hamburg's premier art gallery offers the chance to view works across the time spectrum from the Middle Ages through to the present day. The Kunsthalle's main aim is to educate about art, rather than showcase particular art treasures (although treasures abound), and exhibitions are constantly changing to introduce new forms of art to the public. The museum now actually occupies two buildings: the Galerie der Gegenwart, a modern structure, exhibits the modern and contemporary art; the famous old building - worth seeing in itself - is now connected to the new and showcases the older works most of which date back to the 14th, 16th and 17th centuries. There are several cafes in the gallery, including a bistro with a nice view of the Binnenalster. Seeing everything in this gallery will probably only take about two hours if you don't dawdle but there are lovely spots to sketch and write which may prolong your visit.
Address: Glockengießerwall
Website: www.hamburger-kunsthalle.de
Telephone: (0)40 428 131 200
Transport: S1, S2, S3, S4, S11, S21, S31; or U1, U2, U3 to Main Station; or bus 112
Opening times: Tuesday to Sunday 10am to 6pm; closes 9pm on Thursdays. Closed Mondays. Library: Thursday to Saturday 11am to 5pm.
Admission: General admission: €12 (adults); guided tours €3. Concessions available for a reduced fee of €5, children under 18 are free.