Hatta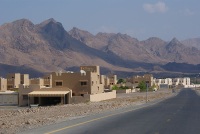 Hatta © Nepenthes
An ancient village positioned in the foothills of the Hajjar Mountains, Hatta is located about 71 miles (115km) east of Dubai. A popular weekend getaway for residents of the city, Hatta has a mild climate that makes it ideal for escaping the heat of Dubai. The town itself is basic, with an ATM and roadside market being the main tourist infrastructure, which gives it an unspoiled atmosphere that makes it interesting to explore; the 16th-century fort is a must-see.
Hatta also makes a good base for exploring the surrounding region. 4x4 trips and off-road adventures are a popular way to take in the scenery, including the Wadi Hatta gorge with its magnificent waterfall, and a few picturesque rock pools.
Travellers driving to Hatta should keep in mind that the road from Dubai passes through Oman; although there are no border stations, most rental car agreements from the UAE will not cover incidents that happen in Oman.