Kish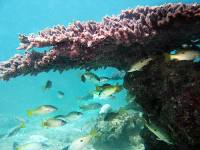 Kish © Hamed Saber
The beautiful island of Kish is located in the Persian Gulf, off the southern shore of mainland Iran. Sometimes referred to as the 'Pearl of the Persian Gulf', Kish is home to a resort with both modern and ancient attractions.
The luxury resort of Kish offers many family attractions, including the Kish Dolphin and Crocodile Park, Mysteries of the World Zoo, and a giant bird interactive sculpture. The resort takes advantage of Kish's stunning islands to offer water sports like snorkeling and scuba diving, yachting, fishing, parasailing and water-skiing. Unfortunately, women are not allowed in some of the best snorkelling areas, however there are women-only beaches available.
Kish also has a number of historical attractions, including the underground town of Cariz, the ancient city of Harireh, and the remains of a Greek ship wrecked on the shore (a popular picnic site).
Kish is a free trade zone, meaning there are good bargains to be had in the numerous shopping malls on the island. Shoppers should be aware however, that much of the merchandise is fake.
Transport: There are flights to Kish from Dubai.