Sharjah Desert Park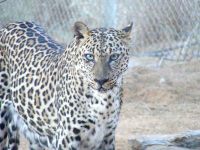 Arabian leopard, Sharjah © Amos Chachmon
Sharjah Desert Park encompasses three attractions: the Sharjah Natural History and Botanical Museum, the Children's Farm, and the Arabian Wildlife Centre. The Wildlife Centre is the most popular attraction, with a zoo, aviary, and breeding centre that houses several endangered species. The Children's Farm is a fun petting zoo for children on holiday in Sharjah. The Natural History Museum has five main exhibition halls: A Journey through Sharjah, Man and the Environment, A Journey through Time, The Living Desert and The Living Sea. Sharjah Desert Park is also home to the Breeding Centre for Endangered Arabian Wildlife, however this is not open to the public.
Address: 16 miles (26km) east of central Sharjah towards Al-Dhaid
Opening times: Sunday to Thursday 9am-5:30pm, Friday 2pm-5:30pm, Saturday 11am-5:30 pm. Closed Tuesdays.
Admission: Adult: AED 15, Children (12–16 years): AED 5, Children (under 12): Free.