Katmandu Park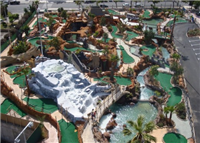 A brand-new, big-budget development, taking over from the very popular Palma Nova Golf Fantasia, is Katmandu Park - a theme park and mini-golf complex that is already proving wildly popular amongst younger visitors to Magaluf. Featuring cutting-edge technology, the House of Katmandu provides a thrilling and interactive 'haunted house' experience for youngsters, while the 36-hole Expedition Golf area of the theme park is hugely impressive, featuring fun and challenging courses that even adults will find tough to master. There is also a 4D cinema at Katmandu Park, and the Kat Bar and Diner, serving American-style food and cold drinks. Take the children to Katmandu Park for a day of fun and excitement they won't soon forget.
Address: Avenida Pedro Vaquer Ramis, next to the Hotel Magalluf Park
Website: www.katmandupark.com/en
Telephone: 971 134660
Opening times: In season (June to August), the park is open from 10am to midnight
Admission: Cost of attractions vary, starting at about €15.90 for adults and €9.90 for children.