Tintern Abbey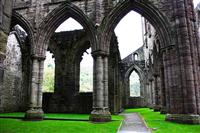 Famous Tintern Abbey, a monastery established by William Marshal ('the greatest knight that ever lived') to give thanks to God after surviving a narrow escape at sea, is one of the most inspiring and enduring tourist sights that Wales has to offer. The abbey, whose first inhabitants were Cistercian monks, dates from the early 13th century and has been well preserved, affording visitors great views of its majestically-ruined nave, chancel, tower, cloister and chapel. The surviving buildings span a 400-year period between 1131 and 1536. Even more beautiful, the grounds around the abbey consist of green fields, craggy, moss-strewn hills, and a stone bridge that leads across an inlet from the sea. Gorgeous Tintern Abbey has a long history of inspiring works of art, from paintings by William Turner to poems by William Wordsworth, Lord Tennyson and even Allen Ginsberg. Located a mere stone's throw from the English border, Tintern Abbey makes a wonderful first stop on a memorable sightseeing tour of Wales. A stroll up to the Devil's Pulpit provides views over the Abbey from above, and there are many great pubs near the ruins for a bite to eat. Be sure to take cameras as Tintern Abbey provides wonderful photo fodder!
Address: Saltmills, New Ross
Website: cadw.wales.gov.uk/daysout/tinternabbey/?lang=en
Telephone: 051 562650
Opening times: 10am to 4pm Monday to Saturday, 11am to 4pm Sunday (November to February); 9.30am to 5pm daily (March to June and September to October); 9.30am to 6pm (July to August).
Admission: £4.50 (adults), £3.40 (seniors, students and children under 16).