St Anne's Cathedral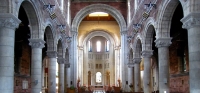 St Anne's Cathedral © Ross
The focal point of Belfast's trendy Cathedral Quarter district, St Anne's Cathedral is a gorgeous monument, and a proud symbol of all the best that Northern Ireland has to offer. With its foundation stone laid at the turn of the 20th century, the cathedral was constructed around an old parish church, of which only the Good Samaritan window still remains, viewable in the sanctuary of St Anne's. In 1924, the west front of St Anne's Cathedral was built in memoriam of the Ulster men and women who lost their lives in World War I, and in 1932, mosaics of St Patrick were inlaid to celebrate the 1,500-year anniversary of the Saint's arrival in Ireland.
However, the most intriguing sight for present-day visitors to Belfast is the 130-foot (40m) stainless steel spire that was added to the cathedral in 2007. Known as the 'Spire of Hope', the structure is illuminated at night, and stands as a symbol for the rejuvenation of Belfast's Cathedral Quarter, and for the new hope and optimism that is beginning to flourish in Northern Ireland's historically troubled capital. Although St Anne's is an Anglican cathedral, the church welcomes people of all faiths as well as tourists. There are many historic treasures and works of art housed in the church.
Address: Donegall St, Belfast, UK.
E-mail: admin@belfastcathedral.org
Website: www.belfastcathedral.org
Telephone: +44 28 90 328 332
Opening times: Monday to Saturday from 9am to 5.15pm, and from 1pm to 3pm on Sundays.
Admission: Adults: £5. Children: £3.