Carrick-a-Rede Rope Bridge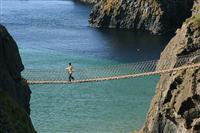 Situated in an area of significant natural beauty, with views of Rathlin Island and Scotland stretching out in the distance, the Carrick-a-Rede Rope Bridge is one of Northern Ireland's newest and most popular tourist attractions. The rope bridge, which connects tiny Carrick Island with the mainland on the Antrim Coast, is the latest in a 350-year series of bridges between the two points, and offers a thrilling walk along the 66-foot (20m) divide, with visitors suspended 100 feet (30m) above the rocks below. Carrick-a-Rede has only been a tourist attraction for about five years, but already boasts about a quarter of a million annual visitors. Despite being quite scary, especially in high winds, Carrick-a-Rede has an impeccable safety record, and the extreme beauty of the rugged coastline on which it is built makes for a highly worthwhile day trip for visitors to Northern Ireland. Although there is no real danger, a number of tourists have chickened out and refused to cross the bridge again after reaching the far side! If this happens, the only alternative is getting back to the mainland by boat. Although opening times vary, the bridge is almost always open to visitors for at least a few hours every day.
Address: Carrick Island, Antrim coastline
Website: www.nationaltrust.org.uk/carrick-a-rede/
Opening times: Opening times vary considerably according to season: check the calendar on the official website for detailed opening times.
Admission: Carrick-a-Rede: £5.60 (adults); £2.90 (children).