Museum of Hamburg History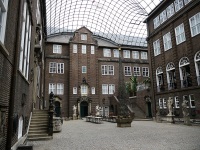 Hamburg Museum courtyard © Wolfgang Meinhart
The Hamburg Museum gives a detailed description of the city of Hamburg from the 8th through to the 20th centuries. Scale models have been used to illustrate the changing shape of the city's famous harbour. Exhibits also include reconstructions of various typical rooms, such as the hall of a 17th century merchant's home to an air raid shelter from World War II. Actual features from old buildings have been moved into the museum creating an exciting architectural space. The museum is housed in an impressive building crowned by a tower designed to look like a lighthouse and dating back to 1922 when the museum opened. It was built on part of the former fortifications of the town of Hamburg, details of which can be found inside. The gorgeous central courtyard has recently been covered with a glass ceiling and the space is now used for exhibitions, concerts and other events. To see what's on when you're visiting check the website.
Address: Holstenwall 24
E-mail: info@hamburgmuseum.de
Website: www.hamburgmuseum.de
Telephone: (0)40 428 132 2380
Transport: U3 to St Pauli; or bus 112 to 'hamburgmuseum' stop
Opening times: Tuesday to Saturday 10am to 5pm, Sundays 10am to 6pm, closed Mondays.
Admission: €8 (adults); €5 (reduced); under 18s free; concessions available.