Oak Mountain State Park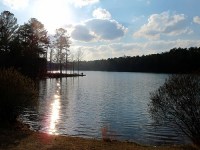 Oak Mountain State Park is a great place for outdoor activities on any holiday in Birmingham. The park is equipped with over 50 miles (80km) of trails for hiking, mountain biking, and horseback riding, and has plenty of picnic facilities for day trips. Two lakes on the north end of the park are good for fishing, and boats and canoes are available for rental. Golf enthusiasts will enjoy the 18-hole golf course, complete with a pro shop and driving range. Teenagers can challenge themselves on the BMX courses, while children will love the petting farm.
Website: www.alapark.com/oakmountain
Telephone: (205) 620-2520
Admission: $3 adults, $1 children 6-11.