The Golden Mile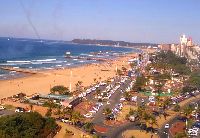 Durban is most famous as a beach holiday destination, so it's no wonder that its most popular attraction is the sandy beach stretching across one end of the city centre. Known as the Golden Mile, the beach starts in the north at Blue Lagoon, a popular picnic and fishing spot; past Suncoast Casino and Mini Town on North Beach; by the skate park, surfing museum, and restaurants in the Bay of Plenty; past the small souvenir market and hawkers near Fun World; all the way to uShaka Marine World in South Beach.
The Golden Mile is the epicentre if Durban tourism, dotted with elaborate kiddie pools and framed by high-rise hotels and holiday flats on all sides. A wide, flat promenade runs nearly the entire way, and tourists can enjoy strolling or rollerblading along it, or taking a ride in a colourful rickshaw. The beach itself is wide and flat, and good for swimming and surfing. On Sundays, the amphitheatre near North Beach hosts a large flea market, offering everything from beaded jewellery and wood carvings to saris and pirate dvds.
During the day, the Golden Mile is a paradise for holidaymakers and sun-worshippers, however it is not considered safe to walk on the promenade after dark. Visitors should keep watch of their belongings at all times and beware of pickpockets.