San Diego Wine Country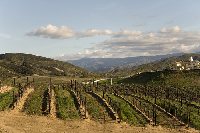 While not as well-known as Napa Valley or Santa Barbara, the wineries in San Diego and neighbouring Riverside are growing in popularity as they produce excellent wines. A few of the most popular wineries to visit include Orfila Vineyards, Bernardo Winery, The Blue Door Winery, and Fallbrook Winery.
While many of the most popular wineries are in Escondido, but there are other areas around San Diego worth visiting. The suburb of Temecula is home to more than 30 wineries that offer tastings and tours, and Valle de Guadalupe, just across the border in Mexico, also has a number of good vineyards within 90 minutes of San Diego that are worth exploring.
Website: www.sandiegowineries.org