Monterey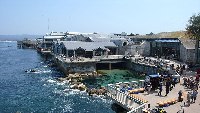 Monterey Bay Aquarium © Meij.kobayashi
One of the most beautiful cities on the central California coast, Monterey was originally the state capital of California and has a rich Hispanic heritage. Set on a stunning coastline of sandy beaches and rocky cliffs, Monterey is a relaxing place to enjoy outdoor activities like golf, bicycling, surfing, kayaking and hiking.
Monterey was the setting for some of John Steinbeck's most famous novels, and visitors can explore literary neighbourhoods like Cannery Row and Fisherman's Wharf, which have many good art galleries and excellent restaurants serving freshly caught local seafood. The Path of History winds around Old Monterey (known as Monterey State Historic Park), and guided tours are available. There are several interesting museums in the area, including the Maritime Museum of History, Presidio of Monterey Museum, Old Whaling Station and Pacific House Museum.
The Monterey Bay Aquarium is a great place to see local wildlife, including the abundant sea otter population. Children will also love the playgrounds and paddle boats at Dennis the Menace Park, and the interactive exhibits at the Monterey County Youth Museum.
The surrounding region offers many additional attractions and excursions. The famous 17-Mile Drive has breathtaking coastal views through Pacific Grove and Pebble Beach, while the wineries of Carmel Valley offer wine tastings and tours. Point Lobos State Reserve and the State Parks comprising Big Sur make for an amazing afternoon drive and hiking session, and the pretty village of Carmel-by-the-Sea has idyllic beaches.
Website: www.seemonterey.com