Santa Cruz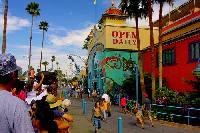 Santa Cruz Beach Boardwalk © the_tahoe_guy
A small city at the north end of Monterey Bay, Santa Cruz is a fun weekend getaway with a bohemian atmosphere. Popular tourist attractions like the picturesque Beach Amusement Park and Boardwalk are great for families, and the beaches are some of the best along the California coast. One of the most famous attractions in Santa Cruz is the Mystery Spot, a kind of tilt-induced visual illusion known as a gravity hill. The effect is that the laws of physics and gravity seem to be turned on their heads, causing misperceptions of height and orientation.
E-mail: frontdesk1@santacruz.org
Website: www.santacruzca.org
Telephone: (831) 425 1234
Opening times: Mystery Spot: 10am-4pm (5pm on weekends). Beach Boardwalk hours vary according to season.
Admission: Mystery Spot $8; Beach Boardwalk Unlimited Ride Wristband $39.95